SCOTT LAVENE + Stilts Foster
Wed
September 29, 2021
7:00 pm
BST
(Doors:

7:00 pm

)
The Engine Room ,
The Old Maltings Building, North Shields
Ages 18 and Up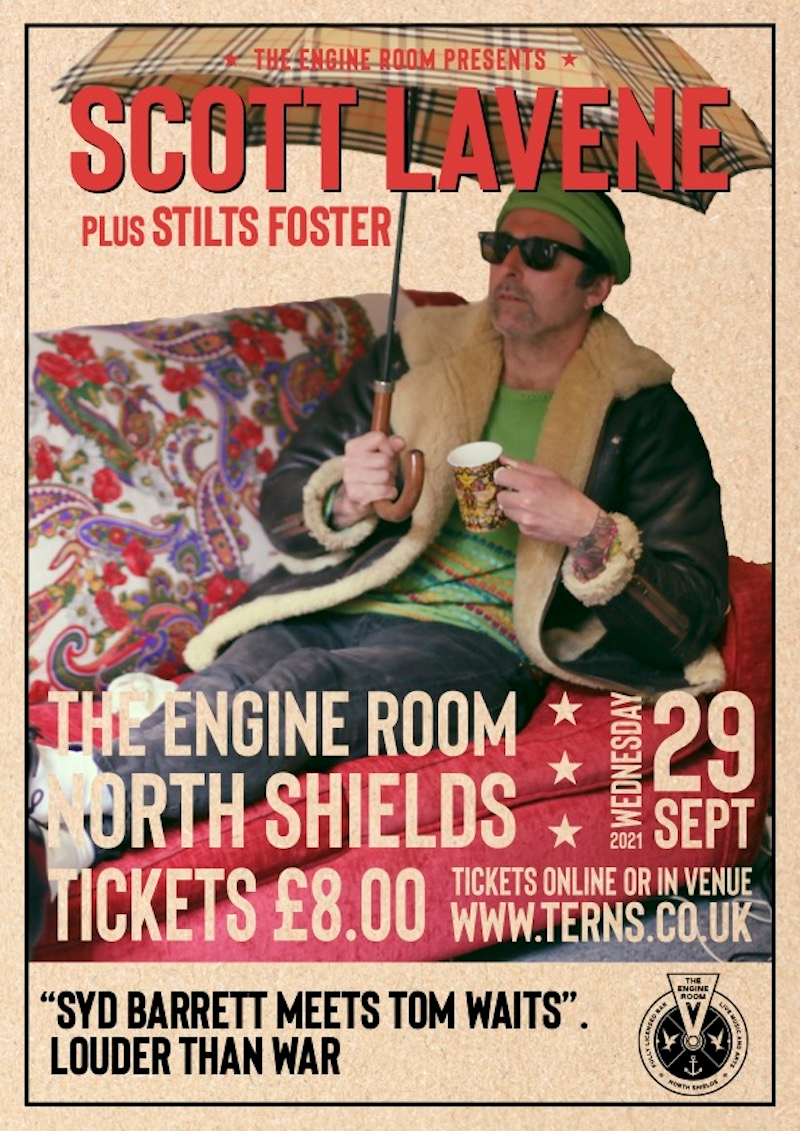 GBP8.00
"Think Baxter Dury's warped kid brother." The Times
"Syd Barrett meets Tom Waits". Louder Than War
"Any 'Best Albums of 2019' lists that don't have Scott Lavene's 'BROKE' near the top are bullshit" Dangerous Minds


Have we ever needed great storytellers so badly? Voices to snap us out of our collective grey funk, to pull us out of our narrow, hemmed-in worlds and to lighten our days and enlighten us with their perspectives, Immersing us in their worldview and history. People who can make us laugh, cry, gasp or nod sagely, to see our world anew and not feel so alone. We need stories, vignettes, new windows to look out of, and narrators to help those new visions make sense.
In short, we need Scott Lavene. Born and raised in Essex, but a man of the world who has wandered far and wide, Lavene's a storyteller who can capture all the madness, joy and frustration of life while singing about worms writhing in the ground. Lavene's been in bands since his teens, and as such we get a combination of wry observation, humble wisdom, unguarded vulnerability and unpredictable humour – in a music workshop for alcoholics and addicts, long after he'd bid farewell to childhood dreams of pop stardom, and the ghosts and demons that accompany those dreams.


https://twitter.com/scottlavene
https://www.facebook.com/scottlavenemusic
https://www.instagram.com/scottlavene/
https://scottlavene.bandcamp.com/
https://www.youtube.com/channel/UCWRsNsaS79SIlfd3oMJJX5A
https://open.spotify.com/artist/6dpTFwhi4Z3QIJeOxjZB3n?si=laqUmAniToatyDp-HkZxrw&dl_branch=1
Louder Than War - Live Review
https://louderthanwar.com/scott-lavene-george-tavern-shadwell-live-review/
Dangerous Minds - Recent Feature
https://dangerousminds.net/comments/scott_lavene_the_best_singer-songwriter_that_youve_never_heard_of_gets_his_
------